Iceland is another country that does not have trains. Wikipedia says there was a narrow-gauge railway in the early 20th Century used in the construction of Reykjavik's harbor and that in the future there is a possibility of light rail in Reykjavik and a train to Keflavik airport (a distance of about 50km). But because of Iceland's rugged landscape, the concentration of most of the population in the Reykjavik area, and cars, even those two projects may never happen.
In May 2018 we flew from Glasgow to Keflavik, arriving late on a Monday afternoon. We rented a Fiat sedan and started driving toward Reykjavik. I was concerned about the Reykjavik traffic and my ability to navigate without data on my phone. I did briefly make a wrong turn before we got on Route 1, the famous "Ring Road" that loops around Iceland. We headed north towards Borgarnes. Outside of the capital region, the drive along the fjords of Iceland's west coast was pleasant. It was May, before the flood of tourists that spikes the island's population every summer. Most of the time I was driving on empty roads.
We went through the Hvalfjörður Tunnel, crossed another fjord and arrived at Borgarnes, where we stopped to shop at Bonus, Iceland's major supermarket chain. The staff were very nice, because although we came into the shop just as they were closing (1900 or 2000), none of the employees told us they were closed while we wandered the aisles of the store searching for snacks and beer. (Our destination was a fancy hotel and I was trying to save some money.)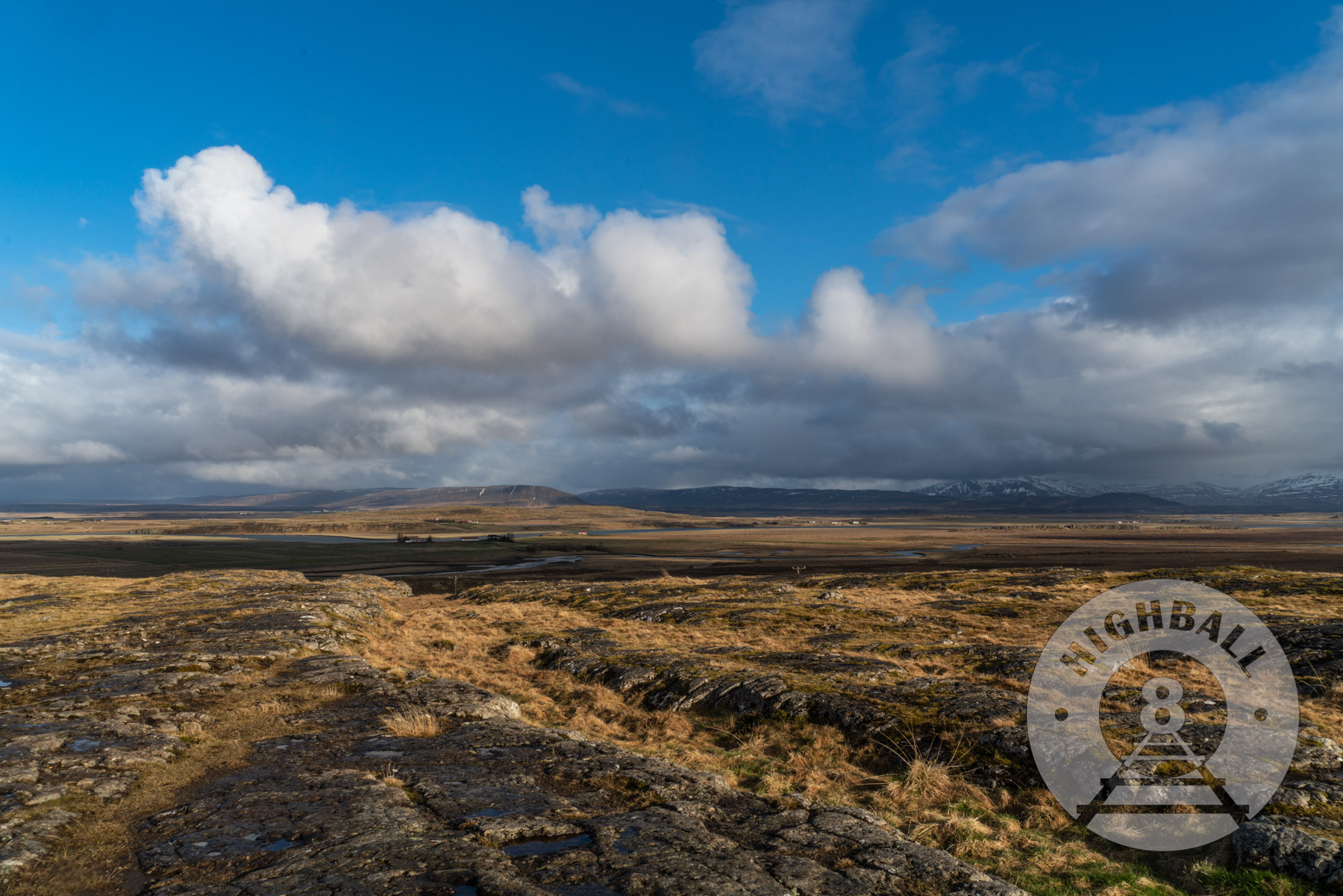 We continued north on 1 out of Borgarnes and pulled over at a scenic parking spot. The skies were clear with some low, fast-moving clouds and we could see distant mountains separated from us by pastures and rock fields scattered with a few houses. We drove another 10 miles and turned east onto Route 50 and drove through pasture land with many of Iceland's famous horses and a few of its sheep. Our destination was the Hotel Husafell, near the famous Hraunfossar Falls, a waterfall that flows from a lava field and into the Hvítá River. We pulled into the parking lot at Hraunfossar, which was empty – it was about 2100, but between flying in from Scotland and the sun not setting until almost midnight I didn't realize how late it was. We checked out the falls, took some photos, and proceeded on to the hotel, which was only about three minutes down the road. We checked in to our room, which included a free-standing tub fed by water from a geothermal well. (All of the water used at Hotel Husafell is from on-site underground wells, which also generates all of the property's electricity). We had a light dinner in the hotel's fancy restaurant and then I had a walk around the resort in the dusk; it was still light at 2300.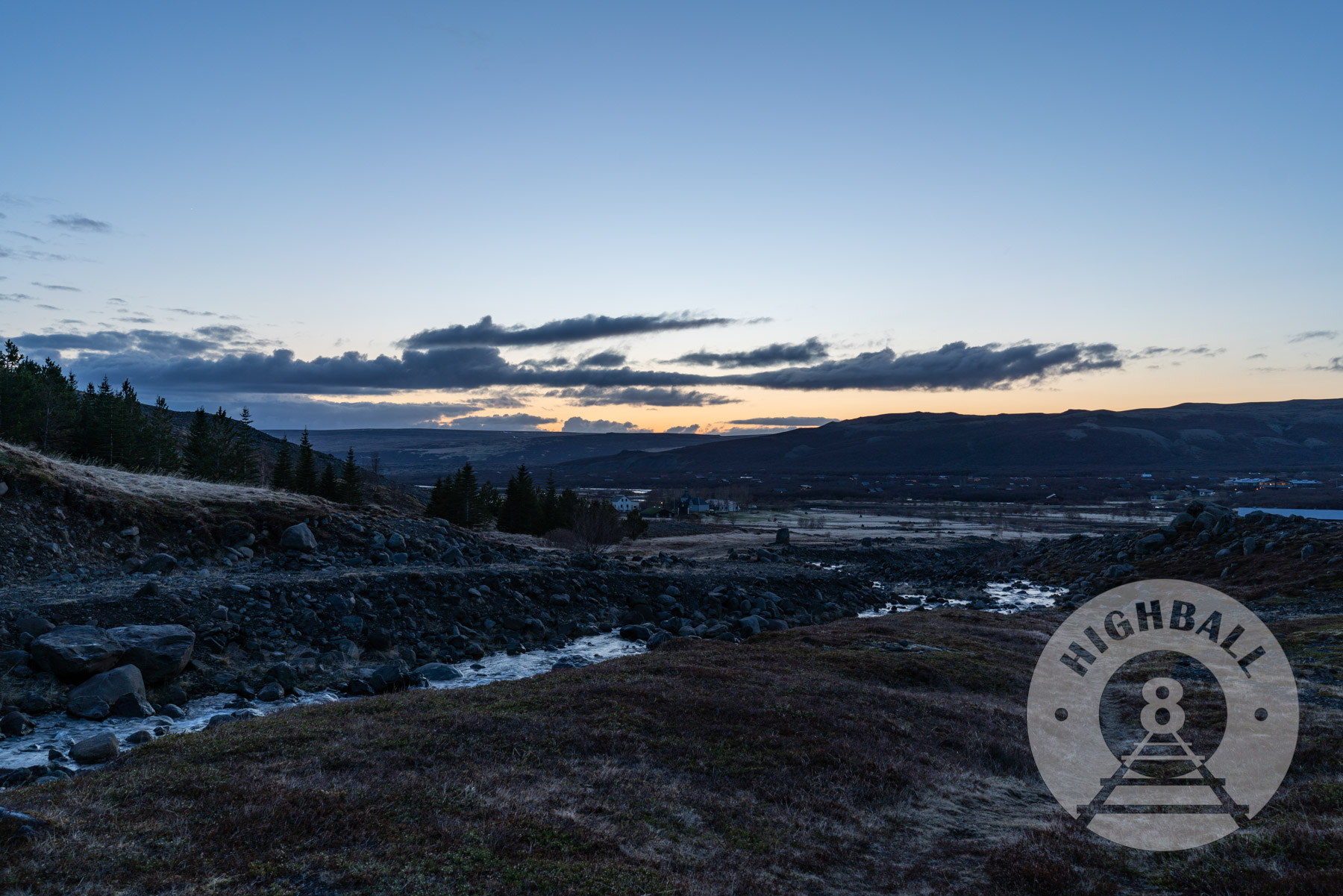 The next day I saw some of Iceland's volatile weather: Between waking up and finishing breakfast, I saw everything from sunny and calm, to very windy, to rain, to snow and sleet. I asked one of the hotel employees about what I could expect, and she told me it was Iceland: if I didn't like the weather now, it would change in five minutes. The resort had a simple map of the area that included trails. My goal was to walk to Hraunfossar Falls, hopefully not along the road, and see more of surrounding countryside. I headed west along the foot of a ridgeline, following an unpaved vehicle track. At one point I crossed a stream and headed up a dirt road to get a better view from higher ground. In the distance I saw a glacier.
As promised, the weather frequently changed between extremes. As I walked down the valley towards Hraunfossar, I saw dark, heavy clouds of rain or sleet coming towards me. When they passed there would be blue skies and bright sunshine. And sometimes the sun would be shining while snow was blowing into my face. The temperature was around 40F and the wind was not too cold so I was fine.
Hraunfossar Falls is supposed to be free, but the people who own the land started charging for parking, which is apparently not legal but I was on foot anyway. There is a cafe and a gift shop at Hraunfossar, so I had a bowl of soup and a beer and bought some souvenirs before taking lots of photos and video of the falls. I walked back to the hotel along the river and, where there was no trail, along the road, before cutting across the resort's golf course.
We spent some time in the hotel's outdoor geothermal baths. Later, I tried the restaurant's "tasting menu" that cost about $110. After dinner, I tried taking a timelapse, then walked up the side of the ridgeline to get some more photos of the scenery. Even when I came back in around 0000 it was not fully dark.
The next day we drove back to Reykjavik on a route that took us through Reykholt, the town nearest Husafell and home of the medieval Icelandic historical figure Snorri Sturluson. We joined Route 1 again south of Borgarnes and stopped several times along the way to take in the views. We drove into Reykjavik and found our Airbnb in the Vesturbaer neighborhood, a 15-minute walk from central Reykjavik. We walked to the harbor and bought tickets for a "Puffin Cruise" the next day.
I wasn't too impressed with Downtown Reykjavik. On the Laugavegur strip we stopped at Kaffibrennslan for a sandwich and Lebowski Bar (because it was a Lebowski bar) before continuing through the neighborhood to the Hallgrimskirkja, which is a very impressive church built to look like the pipes of an organ. After that we hit up Dillon's Whisky Bar because why not go to an Irish bar in Iceland? Other attractions we walked past included Lake Tjörnin and the Hólavallagarður cemetery. Later I walked farther west on the Seltjarnarnes peninsula.
The next day we took our puffin tour. Some of Iceland's largest colonies of puffins are on small, uninhabited islands right in the Reykjavik harbor, Akurey and Engey. Several companies offer a one-hour boat tour around the islands for about $65 per person. Puffins are beloved by birders and naturalists for many reasons. They are often monogamous and mate for life. Their breeding season is usually between May and August; the rest of the year they live on the open ocean. Sixty percent of puffin breeding takes place in and around Iceland. Each year puffins return to their breeding grounds, occupy their own burrow which they previously dug, and lay a single egg, which the male and female take turns incubating. Their appearance is distinctive. And they look very funny when they fly. They are not aerodynamic and do not take off gracefully, but once they get off the ground they zip around very quickly. It was a fun excursion and worth the cost. I got several good photos and some decent video.
After the puffin tour we had several hours to kill before our mid-afternoon flight, so we drove past Keflavik airport down to Grindavik on Iceland's southern coast, where we had a quick lunch at Café Bryggjan before turning back to the airport. It was a gray, windy day, and the treeless expanse of what looked like lava fields in the area around the airport reminded me of the popular imagination of the Moon or Mars, so I got a few more photos before returning the car.